It is a growing trend that defies conventional wisdom: Some people of color are joining forces with groups that openly champion right-wing causes, including white supremacy and racism.
Spurred by shared resentments and hatreds, American Latinos, Blacks and other nonwhites are swelling the ranks of some of America's right-wing groups in rising numbers.
The recent mass killing in Texas shone a light on the phenomenon, reigniting a debate about what draws nonwhites to far-right militancy and why extremist groups embrace them.
Mauricio Garcia, the 33-year-old gunman who killed eight people in Allen, Texas, on May 6, was a Latino who allegedly harbored white supremacist views.
Police killed Garcia, but he left behind a trove of social media posts that showed his affinity for neo-Nazism and white supremacy.
In one post, he showed pictures of Nazis and neo-Nazis with swastika flags, calling them "my type of people." In another, he referred to himself as "a full-blown white supremacist."
"We're going to make America white again," he bragged in yet another post.
What led a Latino to embrace white supremacist views? Garcia offered some clues: Referring to his "self-loathing phase," he ranted against "loser Hispanics" and admitted he once wished he were white "because my own race treats me like [expletive]."
"This goes to the root of the power of white supremacy: the wish to identify with the racial category that you think is most powerful in the society that you live in," said Heidi Beirich, a prominent extremism researcher and co-founder of the Global Project Against Hate and Extremism.
FILE - Insurrectionists loyal to President Donald Trump breach the Capitol in Washington, Jan. 6, 2021. A 2022 University of Chicago study found that nearly 7% of rioters charged in connection with the attack were non-white.
Estimating numbers
The exact number of nonwhites who join far-right groups is unclear. But one piece of evidence provides some quantification: A 2022 University of Chicago study found that nearly 7% of rioters charged in connection with the January 6, 2021, attack on the U.S. Capitol were nonwhite.
While most of the Capitol rioters were not members of any extremist groups, the data paint a stark picture, said Brian Levin, director of the Center for the Study of Hate & Extremism at California State University-San Bernardino.
The numbers show "how appealing right-wing extremism can be to people of color, and for some, the next stop down that rabbit hole is white supremacy," Levin said in an interview.
The phenomenon is not entirely new. In the 1960s, a Jewish man named Daniel Burroughs led a neo-Nazi group. In the 1990s, Blacks held leadership positions within predominantly white, right-wing anti-government militias.
But Garcia was a new face of white supremacy. He belonged to a far-right movement that has become more racially diverse and offers more ideological entry points for aspirants. Political scientists Daniel Martinez HoSang and Joseph Lonwdes have called this "multiracial white supremacy."
"If you look at who was arrested after the January 6 insurrection, you'll see a wide range of occupations and ages, social classes ... and beliefs," HoSang, a professor of political science and American studies at Yale University, said in an interview. "Some are focused on conspiracy theories and QAnon. Some are motivated by homophobia and transphobia. Some focus on Islamophobia. [Others focus on] nativism."
But what unites the motley crew of hard-right believers is a belief in "the decline of the nation," HoSang said.
"To address this decline, there's a kind of almost valorizing and heroic role for a small number of people who, in order to restore the nation, restore its honor, will take violent action," he added.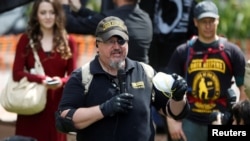 FILE - Oath Keepers founder Stewart Rhodes speaks at a rally in Berkeley, Calif., April 15, 2017. Rhodes has openly talked about his own "mixed race."
Melting pot of extremists
Today, the extremist fringes boast support from virtually every corner of the American melting pot.
Nick Fuentes, identified as a white supremacist in federal court filings, has Latino ancestry.
Former Proud Boys chairman Enrique Tarrio identifies as an Afro-Cuban.
Oath Keepers founder Stewart Rhodes has openly talked about his own "mixed race."
Both Tarrio and Rhodes have been convicted of seditious conspiracy for their roles in the January 6 riot.
Ali Alexander, the organizer of the "Stop the Steal" rally that preceded the Capitol attack, is the product of a Black mother and a father from the United Arab Emirates.
Joey Gibson, the founder of the alt-right group Patriot Prayer, is half-Japanese.
They all reject the white supremacist label.
Fuentes, for example, has called the label "an anti-white racial slur."
Tarrio has said, "I'm pretty brown, I'm Cuban. There's nothing white supremacist about me."
Mainstream conservatives have also taken issue with the characterization.
"It seems if someone sneezes the wrong way they're accused of white supremacy," conservative writer Julio Rosas said during House testimony on Tuesday.
But detractors say people of color who harbor white supremacy cannot escape the consequences of their ideology based on their skin color.
"It's very hard to say you reject the label of white supremacist when you are busy proselytizing about all the ways in which whiteness is superior," said Tanya Hernandez, a race expert and professor at Fordham University School of Law.
FILE - Jeff Schoep, who then was commander of the National Socialist Movement, a neo-Nazi group, speaks during a rally in Little Rock, Arkansas, Nov. 10, 2018. Schoep now leads an extremist disengagement advocacy organization.
Racially inclusive extremist groups
To be clear, not all far-right groups welcome people of color into their ranks. Neo-Nazi organizations such as the National Socialist Movement still cling to a rigid whites-only policy.
But they are a shrinking minority on the far right, replaced by a less hierarchical and less race-based movement that taps into a more diverse pool of recruits.
"The racist fringes have mutated and expanded who can come under their umbrella," Levin said. "Before, it used to be: Who are you? Now, it's as much: Who do you hate?"
Nonwhites not only bolster the ranks of far-right groups, but they also shield them from accusations of racism, enabling them to legitimize their bigotry, experts say.
"They can say, 'Hey, we have people of color with us so you can't say we're racists,' " said Jason Williams, a criminologist at Montclair State University in New Jersey.
The push for racial inclusion has sparked heated debates among extremist groups.
On right-wing message boards, users have argued whether a Jew who fully embraces right-wing ideas or a light-skinned Latino should make the cut, HoSang said.
Jeff Schoep, an ex-head of the neo-Nazi National Socialist Movement, recalls similar conflicts within his former group.
"There were people who would say Spaniards and Portuguese shouldn't be allowed, Italians shouldn't be allowed," said Schope, who now leads Beyond Barriers, an extremist disengagement advocacy organization. "I remember getting into arguments with certain people over that."
What motivates people of color
White supremacists welcoming people of color may be surprising. But a person of color joining them is even more unexpected.
Their motives are as varied as their backgrounds.
Latinos, a racially diverse group, stand out as one of the more visible nonwhite groups on the far right.
A Latino who looks and identifies as white but is not fully accepted as white may join an extremist group in order to prove his self-identify, said Hernandez of Fordham University.
But she noted that "one need not have a white appearance in order to be an upholder of white supremacy."
For others, enlisting in a right-wing group is as akin to "joining a family of sorts, a family that's going to support them, provide substance to them and so forth," said Williams of Montclair State.
Not all right-wing extremists, whether white or not, espouse violence. Far-right activists distance themselves from violent actors on the right and claim to be peaceful advocates for white interests.
But extremism researchers say the rhetoric and the violence are often interwoven.
"That rhetoric is what nurtures and sustains the impulses of those who are more inclined to pick up firearms," Hernandez said.